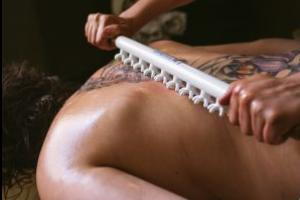 FUNCTIONAL NEUROMUSCULAR ACTIVATION THERAPY (FNMT)
Traditional massage therapy offers many benefits, but it doesn't address the underlying mechanisms causing the symptoms, often offering only a short term fix. Just as Chiropractic promotes optimal nervous system function by removing subluxations, Functional Neuromuscular Activation Therapy (FNMT) uses a variety of techniques that address not only the muscles, but the nervous system, bringing the patient lasting results. FNMT in combination with Chiropractic care may provide you long lasting results and improvements to your overall health!
Who Can Benefit?
This is great for athletes, anyone prone to injury, or anyone looking to improve their overall well-being. Do you need to be experiencing pain to get this therapy? NO! This is a great way to improve & correct bad posture & increase range of motion. 
What is it?
"By definition, [F]NMT is the utilization of static pressure on specific myofascial points to relieve pain. This technique manipulates the soft tissues of the body (muscles, tendons, and connective tissue) to balance the central nervous system. In a healthy individual, nerves transmit impulses (which are responsible for every movement) to the body very slowly. Injury, trauma, postural deficiencies or stress cause nerves to speed up their transmission, inhibiting equilibrium and making the body prone to pain and dysfunction.
This type of therapy often concentrates on painful spots within a tight muscle or its fascia, the strong connective tissue surrounding muscles, called trigger points. These tender sites can cause pain by shortening the muscle or causing referred pain patterns, which is a pain in a location other than the trigger point site. By releasing these adhesions and trigger points the nervous system is able to stabilize low levels of neurological activity to maintain normal function and overall health." (Momentum Function). 
Our FNMT Fasciologist: JESSICA GRAY
Jessica Gray LMT, FNMT, Fasciologist
"Your Path to Pain Relief When You Think You've Tried Everything"
Jessica has been with us for nearly 2 years and she has been such a wonderful asset to the team. Dr. Sutherland has personally been under her care and saw incredible results with her treatment! She has been seeing amazing results with her patients and we look forward to her continued success with our patients! Dr. Sutherland has personally been under her care and saw incredible results with her treatment!
Resources: 
https://momentumfunctionalhealth.com/tag/what-is-neuromuscular-therapy/